Strategies for abolition in Iran
After China, Iran is among the countries that hold the most execution and condemn most prisoners to death. While welcome reforms to Iran's drug laws sharply reduced the number of executions in 2018, the panel identified a number of serious rule of law issues, violations of the rights of children and women, imposition of the death penalty for 'less serious crimes' including economic crimes, application of the death penalty to sanction political opponents, and discriminatory application of the death penalty against minorities. Many of these concerns were raised during Iran's last hearing before the Universal Periodic Review (2014), where one in five of the recommendations made related to the death penalty.
Use of the death penalty to sanction 'less serious crimes'
The first set of issues concerns the scope of the death penalty. Iran imposes the death penalty for an unusually wide range of crimes. It is critical to bring pressure on the Government to further reduce the scope of the death penalty. Although Iran has reduced capital punishment for drugs crimes, it continues to sentence people to death for 'less serious crimes', including economic crimes such as corruption, fraud or bribery, in violation of international law.
Application of death penalty to children
It also continues to sentence to death and execute minors, in violation of the International Covenant on Civil and Political Rights (ICCPR) and the Convention on the Rights of the Child (CRC). It is estimated that at least 85 children are currently on death row in Iran, although a 2013 amendment to Article 91 of the Penal Code permits judges to exclude children from the death penalty.
Women
Women who have suffered many years of gender violence continue to be convicted for murder if they kill those responsible for the violence against them. A plea of self-defence is not recognized and other mitigating circumstances are not taken into account.
Lack of due process, mistreatment
Iran's judicial process does not provide adequate defendant guarantees, prejudicing the outcome of trials. Judgements are often reached behind closed doors, especially judgements made by the revolutionary courts. Many prisoners are sentenced after summary trials, isolated, and lack legal representation. In many cases, families are not informed that their relatives have been arrested or where they are held. Mistreatment after sentencing is also an issue. Prisoners are often beaten, for example after members of their own social or minority group have protested ('double sentencing').
Discriminatory application of the death penalty against minorities
Iran has sentenced and executed many opponents of the Islamic Revolution since it first came to power 40 years ago and individuals continue to be convicted and sentenced to death for political crimes.
In addition, the authorities discriminate against minorities in their application of the death penalty and imprisonment. Kurds represent about 13% of Iran's population but one quarter of those who are executed and almost half of Iran's prisoners. The majority of the crimes for which Kurdish people are prosecuted relate to national security and 'offences against God'. The Government also discriminates against Kurds when it refuses to return to their families the bodies of Kurds who have been executed.
Balochis, similarly, represent 2% of the population of Iran but 20% of those who are executed.
Extrajudicial killings, notably by Revolutionary Guards, are a major concern.
Looking forward
Although this description is bleak, there has nevertheless been significant progress. Two key goals were recently achieved. First, stoning to death has ceased. In 1996-1997, shortly after Iran and the European Union (EU) established diplomatic relations, videos of stoning emerged. As a condition of maintaining diplomatic relations, the EU required Iran to cease this form of punishment, and in 2002 Iran announced a moratorium on stoning with a view to ending the practice, although stoning incidents continued. Stoning finally ceased after a major campaign in 2010, called 'Stop Stoning Forever'; it remains formally authorized in the criminal law.
Second, in 2017 Iran amended its narcotic laws to remove many drugs crimes from the list of offences subject to capital punishment. As a direct result of this reform, the number of people condemned to death fell significantly and many prisoners were removed from death row.
Challenges and recommendations
• Law reforms are essential.
• Even without law reforms, the Iranian authorities could significantly reduce the number of convictions and executions if they respected Iran's Constitution and their international obligations. The international community should encourage them to do so.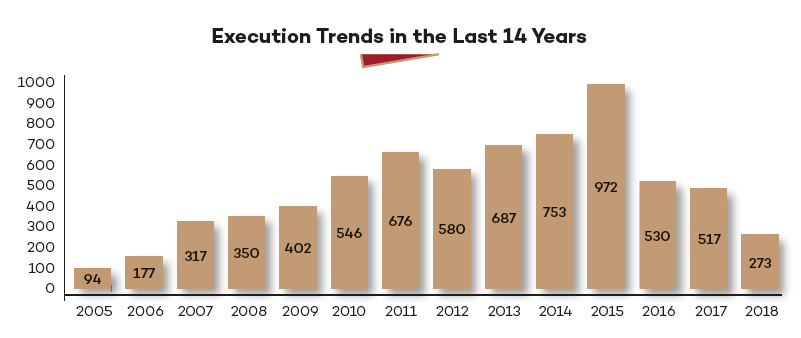 The number of executions in 2018 was the lowest since IHR published its first annual report on the
death penalty in 2008. Numbers prior to 2008 are reported by Amnesty International while the numbers in the last 11 years are based on IHR reports. One cannot rule out the possibility that the pre-2008 figures are underestimated since they are mainly based on official reports.